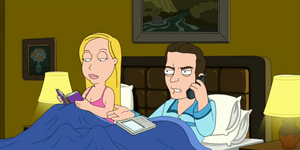 Henry Jackson Thomas, Jr. (born September 9, 1971) is an American actor and musician. He has appeared in more than 40 films and is best known for his role as Elliott in the 1982 Steven Spielberg film E.T. the Extra-Terrestrial.
In "Fat and Wet", it is revealed that, even though Thomas has moved on and is now married, E.T. still calls him. He does not own the bike or blanket from the film anymore.
Ad blocker interference detected!
Wikia is a free-to-use site that makes money from advertising. We have a modified experience for viewers using ad blockers

Wikia is not accessible if you've made further modifications. Remove the custom ad blocker rule(s) and the page will load as expected.