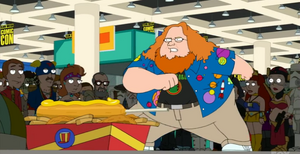 Harry Knowles (born December 11, 1971) is an American online film critic known for his movie news and film review website, "Ain't It Cool News".
At Comic-con in "Hot Cocoa Bang Bang" Harry faces off with Kevin Smith for a corn dog. When they collide, they merge into a huge cycloptic blob that eats the conventioneers while imploring Zach Galifianakis to join them so they could be unstoppable.
Both Knowles and the resulting creature are voiced by Kevin Michael Richardson.
Ad blocker interference detected!
Wikia is a free-to-use site that makes money from advertising. We have a modified experience for viewers using ad blockers

Wikia is not accessible if you've made further modifications. Remove the custom ad blocker rule(s) and the page will load as expected.