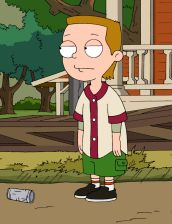 Glenn Franklin Howerton III is an American actor of television and film. He is best-known for his role as Dennis Reynolds on FX's It's Always Sunny in Philadelphia on which he is also a writer and executive producer. He also played Corey Howard on the short-lived 2002 sitcom That '80s Show.
Glenn Howerton provides the voice of Ernie Krinklesac in addition to other assorted voices.
Ad blocker interference detected!
Wikia is a free-to-use site that makes money from advertising. We have a modified experience for viewers using ad blockers

Wikia is not accessible if you've made further modifications. Remove the custom ad blocker rule(s) and the page will load as expected.