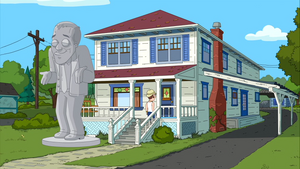 Gilbert Gottfried (born February 28, 1955) is an American stand-up comedian and actor whose trademark is a distinctively loud, rasping, grating voice and squinting eyes. He has played numerous roles in film and television, perhaps most notably voicing the parrot Iago in Disney's Aladdin, as well as co-starring in the Problem Child movies. He was also the voice of the Aflac duck until March 2011.
Donna agrees to let Cleveland put up a statue of Gilbert Gottfried in the yard if he has a word with Cleveland Brown Jr. in "Dancing with the Stools" after Junior kisses her.
Ad blocker interference detected!
Wikia is a free-to-use site that makes money from advertising. We have a modified experience for viewers using ad blockers

Wikia is not accessible if you've made further modifications. Remove the custom ad blocker rule(s) and the page will load as expected.