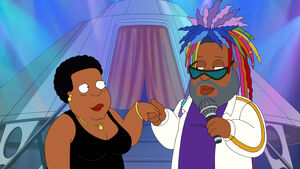 George Clinton (born July 22, 1941) is an American singer, songwriter, bandleader, and music producer and the principal architect of P-Funk, a funk, soul and rock music collective.
When Evelyn Brown runs away with George Clinton in "When a Man (or a Freight Train) Loves His Cookie", LeVar Brown, Cleveland and his friends set out to help bring her back.
Ad blocker interference detected!
Wikia is a free-to-use site that makes money from advertising. We have a modified experience for viewers using ad blockers

Wikia is not accessible if you've made further modifications. Remove the custom ad blocker rule(s) and the page will load as expected.