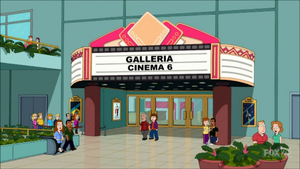 The Galleria Cinema 6 is a movie theater located inside the Stoolbend Galleria mall.
In "Y Tu Junior Tambien", Cleveland Brown and Cleveland Brown Jr. see He Loves Me, He Loves Me Nazi starring Katherine Heigl. Cleveland becomes disappointed that Junior has no female companion to take out on his own.
Ad blocker interference detected!
Wikia is a free-to-use site that makes money from advertising. We have a modified experience for viewers using ad blockers

Wikia is not accessible if you've made further modifications. Remove the custom ad blocker rule(s) and the page will load as expected.