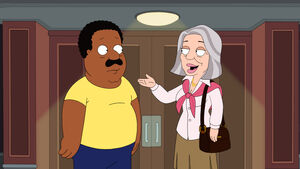 Florence Agnes Henderson (February 14, 1934 – November 24, 2016) was an American actress and singer, best known for playing the role of Carol Brady in the television program The Brady Bunch, which ran from 1969 to 1974. Since 2008 until her death, she hosted the American TV talk show The Florence Henderson Show.
Florence Henderson voices the role of Barbara in "The Men in Me".
Ad blocker interference detected!
Wikia is a free-to-use site that makes money from advertising. We have a modified experience for viewers using ad blockers

Wikia is not accessible if you've made further modifications. Remove the custom ad blocker rule(s) and the page will load as expected.