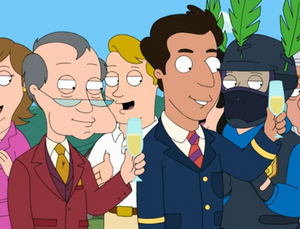 Florence is Mr. Waterman's assistant who seems to be one of the more favored employees of Waterman Cable. He helps Mr. Waterman with more menial tasks, such as getting him tea while he is in his office. Due to the effeminate way in which he carries himself, as well as the fact that he is often seen with Mr. Waterman, it is possible that he is homosexual.
During Bring Your Son to Work Day at Waterman Cable, Florence was seen with a young Asian boy.
Florence is voiced by Mike Henry.
Appearances
Ad blocker interference detected!
Wikia is a free-to-use site that makes money from advertising. We have a modified experience for viewers using ad blockers

Wikia is not accessible if you've made further modifications. Remove the custom ad blocker rule(s) and the page will load as expected.