Family Guy
Talk

0
1,482pages on
this wiki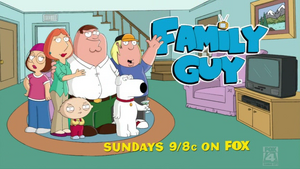 Family Guy is an animated television show that airs on the FOX television network. The show was created by Seth MacFarlane and premiered after Super Bowl XXXIII in 1999. It ran for three seasons but was cancelled in 2002 after being moved around in the schedule. Family Guy is also shown on BBC Three in Great Britain.
However after outstanding DVD sales and success in syndication, FOX made an extremely rare move in uncancelling the show. Fox bought 35 new episodes and the fourth season premiered on May 1, 2005.
The show is focused around the Griffin Family, consisting of Peter, Lois, Chris, Meg, Stewie, and Brian. Other recurring characters include Glenn Quagmire, Joe Swanson, Bonnie Swanson and Herbert.
The Cleveland Show is the spin-off of Family Guy.
Crossovers on The Cleveland Show
The Cleveland Show crossovers on Family Guy
In "Spies Reminiscent of Us," a Russian missile is deactivated by Dan Aykroyd, and falls on Cleveland's new home in Stoolbend. Once again, Cleveland is taking a bath during this and falls out. Tim stops by and says, "I don't get it."
Cleveland makes his first brief return to Quahog to witness Meg's boyfriend in "Go, Stewie, Go!"
Gus, Cleveland and his new family (except Roberta) all appear in "The Splendid Source".
Peter receives a recorded birthday card from Cleveland in "Baby, You Knock Me Out".
Cleveland is shown joining the agreement by everyone to limit themselves to one Christmas gift a year in "Road to the North Pole".
A promo for The Cleveland Show appears in "The Big Bang Theory".
Tim plays one of the Ewoks in the Return of the Jedi parody "It's A Trap!", Rallo also plays Nien Nunb. Also at the end of the episode, Meg asks about the prequels and Peter responds that they are leaving those up to The Cleveland Show.
Cleveland goes on a trip with Peter, Quagmire and Joe in "Cool Hand Peter" while the wives have a get-together of their own. Also, Peter's ringtone for Lois is revealed to be the Theme Song for The Cleveland Show, which flatters Cleveland although Peter points out that it's only because The Cleveland Show's ratings numbers are not so good.
A British version of Cleveland appears in the "Chap of the Manor" segment of "Family Guy Viewer Mail No. 2".
For more, visit Family Guy Wiki