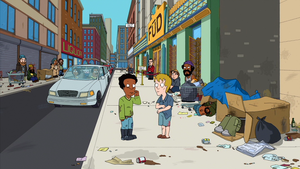 FūD is a trendy, upscale restaurant in downtown Los Angeles.
When Donna and Cleveland become disillusioned with Hollywood in "A Short Story and a Tall Tale", Donna reports that the downtown is the new hot spot. But when they arrive after waiting through a massive traffic jam, Cleveland finds the area consists of only the overpriced FūD and full of bums and run down buildings. When a local decides to wash their windows with his tongue, they then decide to try Beverly Hills.
Ad blocker interference detected!
Wikia is a free-to-use site that makes money from advertising. We have a modified experience for viewers using ad blockers

Wikia is not accessible if you've made further modifications. Remove the custom ad blocker rule(s) and the page will load as expected.