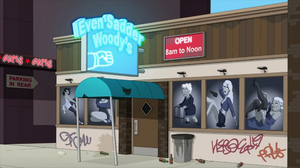 Even Sadder Woodies, located next door to Sad Woody's Gentlemen's Club, is the site of Cleveland Brown Jr.'s pole dancing competition in "Wheel! Of! Family!". After disobeying his grandfather LeVar Brown, Junior completes despite Freight Train's demands that Junior get out of the completion but he refuses, putting on a show and winning over Freight Train.
The club has a bring your own beer policy, which as the announcer for the competition notes, has resulted in a poor business model.
Ad blocker interference detected!
Wikia is a free-to-use site that makes money from advertising. We have a modified experience for viewers using ad blockers

Wikia is not accessible if you've made further modifications. Remove the custom ad blocker rule(s) and the page will load as expected.