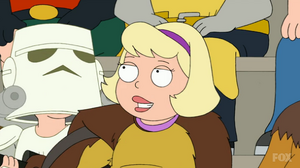 Eliza Jane Schneider (born February 3, 1978) is an American actress, singer-songwriter, playwright, dialect coach and dialectologist, historian, and voice artist, with roles in South Park, Invader Zim, the Assasins Creed series of video games and in Popzilla.
Eliza provides the voice of Rebecca in "Hot Cocoa Bang Bang".
Ad blocker interference detected!
Wikia is a free-to-use site that makes money from advertising. We have a modified experience for viewers using ad blockers

Wikia is not accessible if you've made further modifications. Remove the custom ad blocker rule(s) and the page will load as expected.