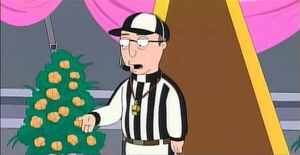 Edward G. Hochuli is an attorney for the firm of Jones, Skelton & Hochuli, P.L.C. since 1983 and better known as an American football official in the National Football League (NFL) since the 1990 NFL season. His uniform number is 85. Prior to his officiating career, he played college football for four seasons at the University of Texas at El Paso (UTEP).
He is the voice of the minister/referee in "Ship'rect".
Ad blocker interference detected!
Wikia is a free-to-use site that makes money from advertising. We have a modified experience for viewers using ad blockers

Wikia is not accessible if you've made further modifications. Remove the custom ad blocker rule(s) and the page will load as expected.