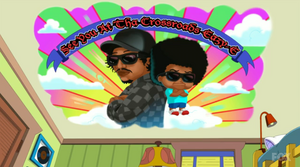 Eric Lynn Wright (September 7, 1963 – March 26, 1995), better known as Eazy-E, was an American rapper, producer and record executive from Compton, California. Widely regarded as one of the founders of the gangsta rap subgenre, he rose to fame as the founder and member of the group N.W.A., and later achieved critical and commercial success as a solo artist.
Cleveland paints a mural of Easy-E and Rallo on Rallo's ceiling in "Fat and Wet" in order to keep him from telling Donna that he nearly drowned when Cleveland failed to pay attention to him around the Brown's new pool.
Ad blocker interference detected!
Wikia is a free-to-use site that makes money from advertising. We have a modified experience for viewers using ad blockers

Wikia is not accessible if you've made further modifications. Remove the custom ad blocker rule(s) and the page will load as expected.