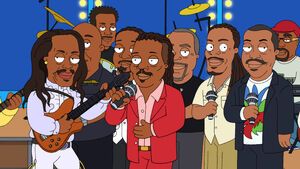 Earth, Wind & Fire is an American R&B band formed in Chicago, Illinois, in 1969 and led by founder Maurice White. Also known as EWF, the Elements or the Elements of the Universe, the band has won ten Grammy Awards and four American Music Awards. They have been inducted into both the Rock and Roll Hall of Fame and the Vocal Group Hall of Fame.
Earth, Wind & Fire perform with Cleveland singing "Get Your Hump on This Christmas" which was available through iTunes during the 2009 Holiday season.
Earth, Wind & Fire appear as themselves in "You're the Best Man, Cleveland Brown".
Ad blocker interference detected!
Wikia is a free-to-use site that makes money from advertising. We have a modified experience for viewers using ad blockers

Wikia is not accessible if you've made further modifications. Remove the custom ad blocker rule(s) and the page will load as expected.