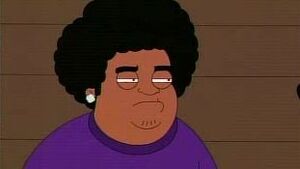 E.L. Fudge is a troubled teenager and part of the Crazy Eights in "Our Gang". Although possibly the strongest member, he speaks with a high-pitched voice.
He also has a cameo at the wedding in "You're the Best Man, Cleveland Brown" and in the school diving competition in "The Hangover Part Tubbs".
Fudge is voiced by Kevin Michael Richardson.
Ad blocker interference detected!
Wikia is a free-to-use site that makes money from advertising. We have a modified experience for viewers using ad blockers

Wikia is not accessible if you've made further modifications. Remove the custom ad blocker rule(s) and the page will load as expected.