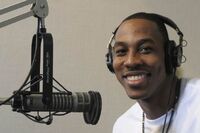 Dwight David Howard (born December 8, 1985) was an American basketball player for the Orlando Magic of the National Basketball Association (NBA).
Dwight Howard voices himself when Cleveland gets rowdy and talks smack to the players in an all-star basketball game in "A Short Story and a Tall Tale". The basketball champs, feeling hurt, seek revenge by paying a surprise visit to Stoolbend and putting Cleveland in his place.
Ad blocker interference detected!
Wikia is a free-to-use site that makes money from advertising. We have a modified experience for viewers using ad blockers

Wikia is not accessible if you've made further modifications. Remove the custom ad blocker rule(s) and the page will load as expected.