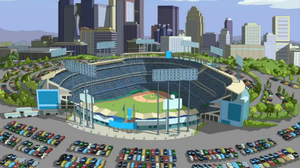 Dodger Stadium is a stadium in Los Angeles. Located adjacent to Downtown Los Angeles, Dodger Stadium has been the home ballpark of Major League Baseball's Los Angeles Dodgers team since 1962.
Cleveland sets off to Los Angeles to resume his dream of becoming a a baseball scout in "California Dreamin'", a pursuit put off after meeting Donna in the "Pilot". He is hired by the Los Angeles Dodgers, but finds out that scouting has progressed from simply watching and following a hunch about players to many long hours of study and math.
Ad blocker interference detected!
Wikia is a free-to-use site that makes money from advertising. We have a modified experience for viewers using ad blockers

Wikia is not accessible if you've made further modifications. Remove the custom ad blocker rule(s) and the page will load as expected.