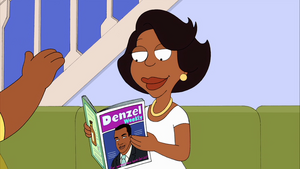 Denzel Hayes Washington, Jr. (born December 28, 1954) is an American actor, film director, and film producer. He is notable for his portrayals of real-life figures such as Steve Biko, Malcolm X, Rubin "Hurricane" Carter, Melvin B. Tolson, Frank Lucas, and Herman Boone.
Donna reads Denzel Weekly in "The Essence of Cleveland".
Cleveland has the option of styling his hair as "The Denzel" in "The Men in Me".
Ad blocker interference detected!
Wikia is a free-to-use site that makes money from advertising. We have a modified experience for viewers using ad blockers

Wikia is not accessible if you've made further modifications. Remove the custom ad blocker rule(s) and the page will load as expected.