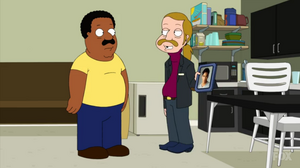 Dean Cain is an American actor, known for his role as Clark Kent/Superman in the American television series Lois & Clark: The New Adventures of Superman.
Cain is Lester's new roommate after he fakes his death in "To Live and Die in VA". Later, Kendra would fall and crush Cain after movers attempt to hoist her up to the apartment.
Ad blocker interference detected!
Wikia is a free-to-use site that makes money from advertising. We have a modified experience for viewers using ad blockers

Wikia is not accessible if you've made further modifications. Remove the custom ad blocker rule(s) and the page will load as expected.