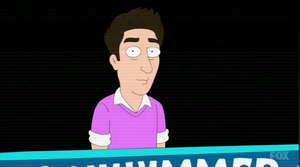 David Lawrence Schwimmer (born November 2, 1966) is an American actor and director of television and film. He is best known for role as Ross Geller in the television show Friends and Melman the Giraffe in the movie Madagascar.
Schwimmer appears in a sitcom promotion presented at Comic-Con called Schwim Team in "Hot Cocoa Bang Bang".
Schwimmer is voiced by Josh Robert Thompson.
Ad blocker interference detected!
Wikia is a free-to-use site that makes money from advertising. We have a modified experience for viewers using ad blockers

Wikia is not accessible if you've made further modifications. Remove the custom ad blocker rule(s) and the page will load as expected.