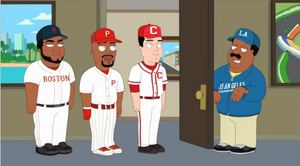 David Américo Ortiz Arias (born November 18, 1975), known as David Ortiz, nicknamed "Big Papi", is a Dominican American professional baseball designated hitter with the Boston Red Sox of Major League Baseball. Previously, Ortiz played for the Minnesota Twins (1997–2002). Ortiz is a seven-time All-Star and holds the Red Sox single season record for home runs in a regular season with 54, set during the 2006 season.
David Ortiz appears as himself in "California Dreamin'" when Cleveland accidentally recruits professional baseball players from other teams when he tries to be a scout for the Los Angeles Dodgers.
Ad blocker interference detected!
Wikia is a free-to-use site that makes money from advertising. We have a modified experience for viewers using ad blockers

Wikia is not accessible if you've made further modifications. Remove the custom ad blocker rule(s) and the page will load as expected.