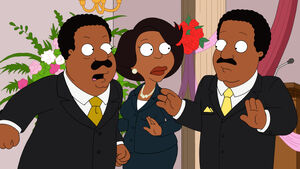 David Alan Grier (born June 30, 1956), is an American actor and comedian known for his work on the sketch comedy television show In Living Color.
David provides the voice of Ebert Williams, the look-a-like Donna hires as a stand-in for Cleveland in "The Hangover Part Tubbs".
Ad blocker interference detected!
Wikia is a free-to-use site that makes money from advertising. We have a modified experience for viewers using ad blockers

Wikia is not accessible if you've made further modifications. Remove the custom ad blocker rule(s) and the page will load as expected.