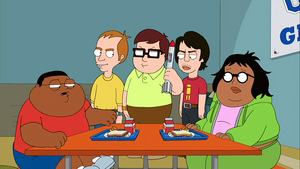 David A. Goodman is an American writer and producer and a graduate of the University of Chicago, earning an BA in 1984. He was one of the executive producers of Family Guy, beginning its fourth season, joining the show as a co-executive producer in season three. He was also a writer for several television series, such as The Golden Girls, Futurama and Star Trek: Enterprise. David Goodman also produced Stewie Griffin: The Untold Story. In 2011, Goodman left Family Guy in order to produce the animated Fox series Allen Gregory.
Goodman has voice credits in "Love Rollercoaster" as the "Nerd in the red shirt" and "Sex and the Biddy".

Ad blocker interference detected!
Wikia is a free-to-use site that makes money from advertising. We have a modified experience for viewers using ad blockers

Wikia is not accessible if you've made further modifications. Remove the custom ad blocker rule(s) and the page will load as expected.