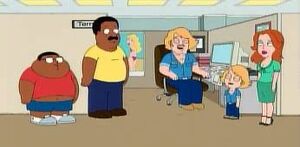 Darleen is one of Terry Kimple's former lovers.
After Cleveland commiserates with Terry about not knowing what it is like to spend "Take Your Kid to Work Day" with his child in "Ain't Nothin' But Mutton Bustin'", Darleen arrives with Little Terry, who is quite apparently Terry's own son, sharing his looks, dress and mannerisms.
Ad blocker interference detected!
Wikia is a free-to-use site that makes money from advertising. We have a modified experience for viewers using ad blockers

Wikia is not accessible if you've made further modifications. Remove the custom ad blocker rule(s) and the page will load as expected.