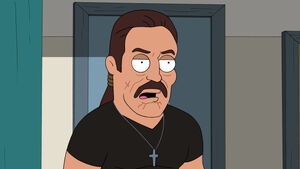 Danny Trejo is an actor known for his work with Robert Rodriguez, especially the Spy Kids films and Machete.
Trejo appears as himself in "Hot Cocoa Bang Bang" as one of Robert Rodriguez' henchmen with Cheech Marin. They lock Cleveland and Donna out of the con. When Cleveland asks why he would do such a thing after Cleveland loved his raping a guy in American Me. Danny points out that it wasn't him but Edward James Olmos.
Ad blocker interference detected!
Wikia is a free-to-use site that makes money from advertising. We have a modified experience for viewers using ad blockers

Wikia is not accessible if you've made further modifications. Remove the custom ad blocker rule(s) and the page will load as expected.