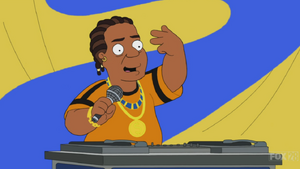 DJ Charlie Chode Rock is the host of the dance contest to win Justin Bieber tickets for radio station 106.1 "The Squirt" in "The Men in Me". Cleveland's dancing not only wins him the contest, but DJ proclaims him to be "The Whitest Black Man in America", dethroning Wayne Brady.
Ad blocker interference detected!
Wikia is a free-to-use site that makes money from advertising. We have a modified experience for viewers using ad blockers

Wikia is not accessible if you've made further modifications. Remove the custom ad blocker rule(s) and the page will load as expected.