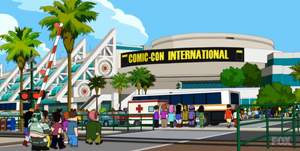 San Diego Comic-Con International or Comic-Con, is an four-day event that is held in the summer, in San Diego, California. Showcasing comic books, science fiction, fantasy and film, television and related popular arts, the convention has expanded over the years to include a larger range of pop culture elements, such as horror, anime, manga, animation, toys, collectible card games, video games, webcomics, and fantasy novels. The convention is the largest in the Americas, and fourth largest in the world after the Comiket in Japan, the Angoulême International Comics Festival in France, and the Lucca Comics and Games in Italy, filling to capacity the San Diego Convention Center with over 125,000 attendees in 2007.
Cleveland, and the family travels here to debut Cleveland's "Waderman" comic in "Hot Cocoa Bang Bang".
Ad blocker interference detected!
Wikia is a free-to-use site that makes money from advertising. We have a modified experience for viewers using ad blockers

Wikia is not accessible if you've made further modifications. Remove the custom ad blocker rule(s) and the page will load as expected.