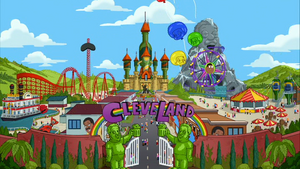 CleveLand is a theme park that Holt intends to build with Cleveland's childhood mementos as a tribute to Cleveland Brown, the greatest man he's ever known in "The Way the Cookie Crumbles". After Holt plants the idea, Cleveland starts to picture the park, but when he bites into a stale churro, he demands the park be closed.
Among the rides and attractions in Cleveland's mind are "Rallo's Rocket Ride", "Brown's Log Flume of Doom", the "Mustache Ride", a "Merry Go Brown", a roller coaster named "Donna's Wild Moods", "McFall Word" and "Kendra's Rascal Rodeo".
Ad blocker interference detected!
Wikia is a free-to-use site that makes money from advertising. We have a modified experience for viewers using ad blockers

Wikia is not accessible if you've made further modifications. Remove the custom ad blocker rule(s) and the page will load as expected.