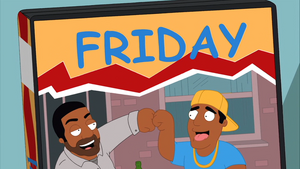 Christopher "Chris" Tucker (born August 31, 1971) is an American actor and comedian. He is best known for the Rush Hour film series. Tucker became a frequent stand up performer on Def Comedy Jam in the 1990s. He came to prominence in the 1995 film Friday alongside Ice Cube, and then appeared in The Fifth Element.
In "The Men in Me", Cleveland picks up a DVD copy of Friday starring Ice Cube and Chris Tucker at Blackbuster.
Ad blocker interference detected!
Wikia is a free-to-use site that makes money from advertising. We have a modified experience for viewers using ad blockers

Wikia is not accessible if you've made further modifications. Remove the custom ad blocker rule(s) and the page will load as expected.