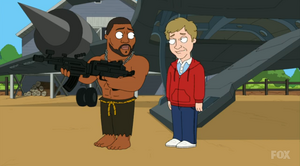 Chris Parson is an American voiceover actor and has lent his voice to episodes of Fox's shows Family Guy, American Dad!, The Cleveland Show, and Disney's Handy Manny, just to name a few.
Chris Parson voiced Michael Cera in "How Cleveland Got His Groove Back".
Ad blocker interference detected!
Wikia is a free-to-use site that makes money from advertising. We have a modified experience for viewers using ad blockers

Wikia is not accessible if you've made further modifications. Remove the custom ad blocker rule(s) and the page will load as expected.