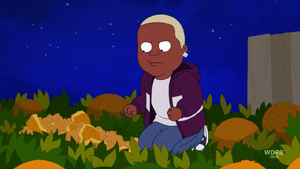 Chris Brown (born Christopher Maurice Brown on May 5, 1989) is an American singer, songwriter, rapper, dancer and actor.
In 2008, Brown's musical setbacks were partially attributed to a domestic assault. At around 12:30am on February 8, 2009, Brown and his girlfriend and fellow R&B singer Rihanna had an argument which escalated into physical violence, leaving Rihanna with visual facial injuries which required hospitalization. Brown turned himself in to the Los Angeles Police Department's Wilshire station at 6:30pm and was booked under suspicion of making criminal threats. On August 25, Brown was sentenced to five years of probation, one year of domestic violence counseling, and six months of community service; the judge retained a five-year restraining order on Brown, which requires him to remain 50 yards away from Rihanna, 10 yards at public events.
In "Mama Drama", Rallo watches a television special It's the Great Pumpkin Chris Brown in which an angered Chris threatens Sally Brown.
Rallo notes that Fern Stapleton broken rear door window is a "smash and grab" in the style of Chris Brown in "Who Done Did It?". LeVar Brown corrects him, noting that it was a window, not a lady's face.
Ad blocker interference detected!
Wikia is a free-to-use site that makes money from advertising. We have a modified experience for viewers using ad blockers

Wikia is not accessible if you've made further modifications. Remove the custom ad blocker rule(s) and the page will load as expected.