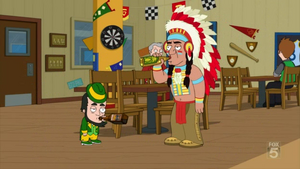 Chief Illiniwek was the official symbol of the University of Illinois at Urbana-Champaign associated with the University's intercollegiate athletic programs from 1926 to February 21, 2007. The Chief was portrayed by a student dressed in Sioux regalia to honor the Illiniwek, the state's namesake. The student portraying Chief Illiniwek performed during halftime of Illinois football and basketball games, as well as during women's volleyball matches.
For more than two decades, Chief Illiniwek has been the center of a controversy. At the root of the controversy is the view of several American Indian groups, as well as other people, both of color, and white, that the symbol/mascot was a misappropriation of indigenous cultural figures and rituals and that it perpetuated stereotypes about American Indian peoples. As a result of this controversy, the NCAA termed Chief Illiniwek a "hostile or abusive" mascot and image in August 2005 and banned the university from hosting postseason activities as long as it continued to use the mascot and symbol. On March 13, 2007, the University of Illinois board of trustees voted to retire Illiniwek's name, image and regalia.
Chief Illiniwek faces off against the unnamed Notre Dame Leprechaun when Cleveland Brown Jr. tries to figure out a hypothetical battle between the two in "March Dadness". The Chief wins by tossing the Leprechaun an explosive-laden potato.
Ad blocker interference detected!
Wikia is a free-to-use site that makes money from advertising. We have a modified experience for viewers using ad blockers

Wikia is not accessible if you've made further modifications. Remove the custom ad blocker rule(s) and the page will load as expected.