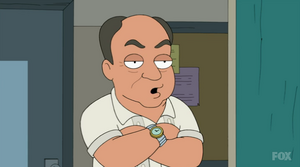 Richard Anthony "Cheech" Marin (born July 13, 1946) is an American comedian and actor who gained recognition as part of the comedy act Cheech & Chong during the 1970s and early 1980s, and as Don Johnson's partner, Insp. Joe Dominguez on Nash Bridges. He has also voiced characters in several Disney movies, including Oliver and Company, The Lion King, Cars and its 2011 sequel. The thick Mexican accent he often uses is a part of a comic persona, rather than a natural accent.
Cheech appears as one of Robert Rodriguez' henchmen with Danny Trejo in "Hot Cocoa Bang Bang". They lock Cleveland and Donna out of the con. When Cleveland points out that his marijuana humor is hilarious, Cheech speaks with a British accent and tells him it's just a character he plays.
Cheech is voiced by Jason Sudeikis.
Ad blocker interference detected!
Wikia is a free-to-use site that makes money from advertising. We have a modified experience for viewers using ad blockers

Wikia is not accessible if you've made further modifications. Remove the custom ad blocker rule(s) and the page will load as expected.