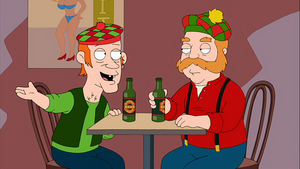 Chad and Chad are two presumably Scottish barflies that welcome Cleveland Brown back from the hospital to The Broken Stool after he is shot by a robber in "The Brown Knight". When the thinner Chad exaggerates Cleveland's reported accomplishment of standing up to the robber, The stouter Chad also exaggerates Cleveland's attributes but Chad #1 doesn't understand. Chad #2 then tells him to either play the game or don't.
Chad & Chad are voiced by Danny Smith and John Viener.
Ad blocker interference detected!
Wikia is a free-to-use site that makes money from advertising. We have a modified experience for viewers using ad blockers

Wikia is not accessible if you've made further modifications. Remove the custom ad blocker rule(s) and the page will load as expected.