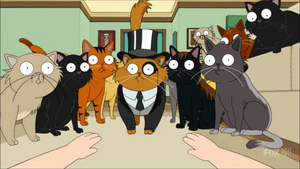 Cecil is Hazel's cat in "Sex and the Biddy". When Hazel manages to scam Rallo Tubbs' friend Murray by marrying him to gain control of his assets and then having him re-committed to the Stoolbend Rest Home, Rallo and Murry plot to have her declared insane as well by planting cats everywhere she goes. Hazel finally cracks when she finds hundreds of cats in her home and Cecil dressed in a tuxedo. When the nurses come to take her away, she claims that somehow Cecil must have come into money.
Ad blocker interference detected!
Wikia is a free-to-use site that makes money from advertising. We have a modified experience for viewers using ad blockers

Wikia is not accessible if you've made further modifications. Remove the custom ad blocker rule(s) and the page will load as expected.