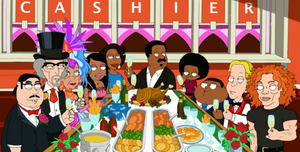 Scott Thompson (born February 25, 1965), better known by his stage name Carrot Top, is an American comedian known for his bright red hair, prop comedy and often self-deprecating humor.
Carrot Top appears in "Another Bad Thanksgiving" when Cleveland gives a nod to all of the Las Vegas archetypes at their Thanksgiving feast.
Ad blocker interference detected!
Wikia is a free-to-use site that makes money from advertising. We have a modified experience for viewers using ad blockers

Wikia is not accessible if you've made further modifications. Remove the custom ad blocker rule(s) and the page will load as expected.