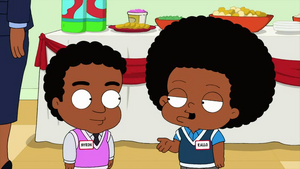 Carlos McCullers II is an American actor with roles in the television series Psych, Lie to Me and King of Queens.
Carlos provided the voice of Byron and another unnamed boy in "BFFs", Rodney King in "Yemen Party" and an unidentified boy in "American Prankster".
Ad blocker interference detected!
Wikia is a free-to-use site that makes money from advertising. We have a modified experience for viewers using ad blockers

Wikia is not accessible if you've made further modifications. Remove the custom ad blocker rule(s) and the page will load as expected.