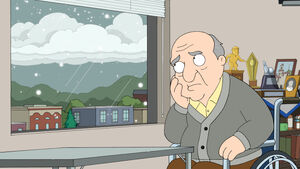 Carl Reiner (born March 20, 1922) is a legendary comedic writer best known for his work on Your Show of Shows with many other would-be comedic legends, including Mel Brooks and Neil Simon, and as the creator of The Dick van Dyke Show.
Reiner recurs on The Cleveland Show as one of Rallo's friends, Murray.
Reiner is also credited for the original story for "Your Show of Shows".
Ad blocker interference detected!
Wikia is a free-to-use site that makes money from advertising. We have a modified experience for viewers using ad blockers

Wikia is not accessible if you've made further modifications. Remove the custom ad blocker rule(s) and the page will load as expected.