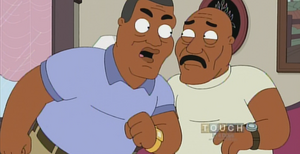 Cannonball Williams is Freight Train's rival, a former NFL Hall-of-Famer and rotisserie-chicken franchise mogul.
After Freight train and the Browns lost a television contest when Cleveland was a child, he blamed a streak of bad luck that followed him on Cleveland, including missing out on a chance to play professional football with the Washington Redskins. When Freight Train abandons Cleveland for Junior in "March Dadness", Cleveland picks Cannonball to be his new father figure, insisting on playing childish games and entering a two-man golf tournament against Junior and Freight Train.
Cannonball attends Freight Train and Cookie's anniversary party in "When a Man (or a Freight Train) Loves His Cookie".
Ad blocker interference detected!
Wikia is a free-to-use site that makes money from advertising. We have a modified experience for viewers using ad blockers

Wikia is not accessible if you've made further modifications. Remove the custom ad blocker rule(s) and the page will load as expected.