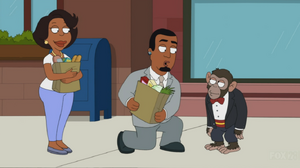 Cadbury was the monkey butler of Willy Nilly. When Willy Nilly tries to win over Donna in order to let Cleveland Brown go to Hollywood in "Frapp Attack!", he has Cadbury present a request to spend a day with Donna at Stoolbend High School. When Willy Nilly becomes attached to the small-town life of Stoolbend, he realizes that he doesn't need a monkey butler and tells Cadbury he's free to go. Cadbury shrugs his shoulders and attacks a passer-by.
Ad blocker interference detected!
Wikia is a free-to-use site that makes money from advertising. We have a modified experience for viewers using ad blockers

Wikia is not accessible if you've made further modifications. Remove the custom ad blocker rule(s) and the page will load as expected.