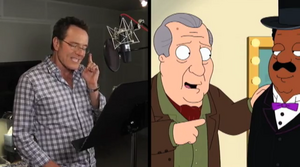 Bryan Lee Cranston (born March 7, 1956) is an American actor, voice actor, writer and director. He is best known for his roles as Hal in the FOX situation comedy Malcolm in the Middle and Walter White in the AMC drama series Breaking Bad, for which he has won an Emmy Award. Other notable roles include Dr. Tim Whatley on Seinfeld, Doug Heffernan's neighbor in the The King of Queens, astronaut Buzz Aldrin in From the Earth to the Moon, Ted Mosby's boss on How I Met Your Mother, and other roles in numerous movies and television programs.
Bryan provides the voice of Graham Kensington in "Brown Magic". He is also the third voice of Dr. Fist after Seth MacFarlane and Tom Kenny starting with "Flush of Genius".
When Rallo triesto watch Breaking Bad in "Brownsized", Cleveland Jr. reacts in horror as it stars "Malcolm's dad" and lures viewers into a false sense of security.