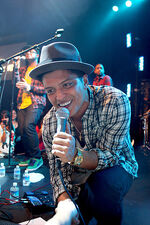 Peter Gene Hernandez (born October 8, 1985), better known by his stage name Bruno Mars, is an American singer-songwriter and music producer.
Bruno Mars appears as himself in "Menace II Secret Society" as part of a Rap Illuminati that ask Cleveland Brown to help destroy Kenny West's career when he becomes too pushy even for them. Cleveland gets Kenny to incorporate polka music into his show where it becomes a hit and the Rap Illuminati break up.
Ad blocker interference detected!
Wikia is a free-to-use site that makes money from advertising. We have a modified experience for viewers using ad blockers

Wikia is not accessible if you've made further modifications. Remove the custom ad blocker rule(s) and the page will load as expected.