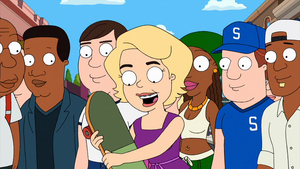 Brandi Young is one of the girls that pledges her purity at the Stoolbend Community Church in "Cleveland Jr. Cherry Bomb". She aggressively pursues Cleveland Jr. at the church Purity Ball as the only boy there but is rebuffed by Joslin Biokepatuka.
Brandi had previously appeared at the dance in "Da Doggone Daddy-Daughter Dinner Dance". She would later catch Tony Hawk's skateboard in "Back To Cool". She can also be seen at the amusement park in "Brownsized".
Brandi is voiced by Kit Pongetti and is named after one of the production assistants on The Cleveland Show.
Ad blocker interference detected!
Wikia is a free-to-use site that makes money from advertising. We have a modified experience for viewers using ad blockers

Wikia is not accessible if you've made further modifications. Remove the custom ad blocker rule(s) and the page will load as expected.