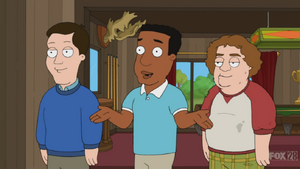 Brad, Murphy & Fart are three fraternity brothers at Cleveland's old fraternity, Kappa Alpha Kappa at State College.
When Cleveland returns to relive his old college days and to escort Roberta to her college interview in "B.M.O.C.", he stops by the fraternity during homecoming week. The fraternity members decide to prank the old members by getting them drunk and Cleveland makes the biggest jerk of himself. When he awakes after winning a drinking contest, he finds himself tied to a donkey and is crowned "dumb alum" as they send the donkey off into the woods. When the three frat brothers bump into Roberta, they get fresh with her when she demands to know where Cleveland is. Federline Jones tries to intervene but is knocked down, prompting Roberta to beat the three until Murphy reveals where Cleveland was. Fart notes that he is a prince before collapsing again.
Ad blocker interference detected!
Wikia is a free-to-use site that makes money from advertising. We have a modified experience for viewers using ad blockers

Wikia is not accessible if you've made further modifications. Remove the custom ad blocker rule(s) and the page will load as expected.