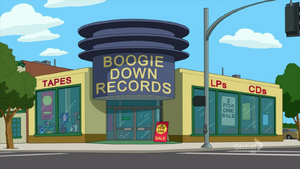 Boogie Down Records is a music shop the Cleveland Brown visits in his quest to rediscover himself as a black man in "The Men in Me". While a number of white patrons listen to "Black music white people listen to", performed by mostly white artists, Cleveland listens in the section of black music black people listen to. The store also has a 2 for 1 sale going on.
Ad blocker interference detected!
Wikia is a free-to-use site that makes money from advertising. We have a modified experience for viewers using ad blockers

Wikia is not accessible if you've made further modifications. Remove the custom ad blocker rule(s) and the page will load as expected.