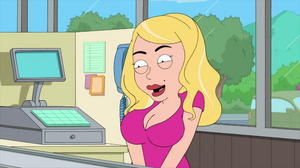 Big-Boob June from the grocery store is a well endowed woman who plays a role in a skit concerning sexual harassment at NASA on Cleveland's cable access show, The Relatively Late Show in "Your Show of Shows".
June was first mentioned as a back-up wife by Cleveland in "Ain't Nothin' But Mutton Bustin'".
She is also mentioned by Rallo in "Yemen Party" while he and Cleveland Jr. are at the Stoolmart.
Donna threatens Cleveland with divorce if she takes off a blindfold to find Big Boob June on a futon in "Grave Danger".
When Cleveland and the guys go to the Ralphed grocery store to replace LeVar Brown's RC Cola in "Of Lice and Men", Big Boob June reveals that Virgina hasn't had RC in years and sends them on a road trip to Kentucky.
Big Boob June is voiced by Alex Borstein.
Ad blocker interference detected!
Wikia is a free-to-use site that makes money from advertising. We have a modified experience for viewers using ad blockers

Wikia is not accessible if you've made further modifications. Remove the custom ad blocker rule(s) and the page will load as expected.