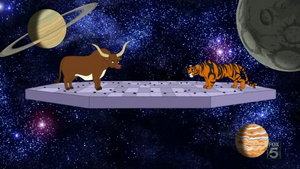 Bevo is the name of the mascot of the sports teams at the University of Texas at Austin, a Texas longhorn steer with burnt orange coloring. The shape of the Longhorn's head and horns gives rise to the school's hand symbol and saying, Hook 'em Horns.
Bevo faces off against the unnamed Clemson Tiger when Cleveland Brown Jr. tries to figure out a hypothetical battle between the two in "March Dadness". Bevo loses when his weight causes him to fall of the floating spiked platform from Flash Gordon into space.
Ad blocker interference detected!
Wikia is a free-to-use site that makes money from advertising. We have a modified experience for viewers using ad blockers

Wikia is not accessible if you've made further modifications. Remove the custom ad blocker rule(s) and the page will load as expected.