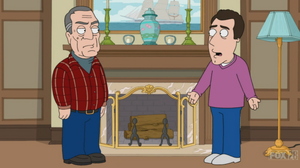 Benjamin Edward "Ben" Stiller (born November 30, 1965) is an American comedian, actor, writer, film director, and producer. He is the son of veteran comedians and actors Jerry Stiller and Anne Meara.
Stiller appears in "Skip Day" with Robert DeNiro planning a trip to Montana in an advertisement for the film Butte Fockers. Cleveland Brown tries to tell Cleveland Brown Jr. that he needs to learn to stand up to authority or he'll end up lamer than Ben Stiller's career with Butte Fockers following as a cutaway gag.
Stiller is voiced by Jess Harnell.
Ad blocker interference detected!
Wikia is a free-to-use site that makes money from advertising. We have a modified experience for viewers using ad blockers

Wikia is not accessible if you've made further modifications. Remove the custom ad blocker rule(s) and the page will load as expected.