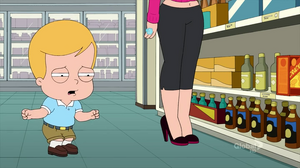 Baron is a spoiled, semi-rich kid that insists on hiring Donna to perform at his birthday in "California Dreamin'".
When Donna crosses paths with a mother and her spoiled kid at Hole Foods, she hears that they are frustrated that they can't book another entertainer. Baron starts throwing items off of the shelves in a temper tantrum as Donna tries to get him to settle down. But when he rips off her wig and drops her purse, she nearly smacks him with her recorder until spotted. She starts playing "Old McDonald" instead and wins over Baron and his mother. Although the mother originally wanted a big name, Baron insists they hire Donna as "Old McDonna".
Ad blocker interference detected!
Wikia is a free-to-use site that makes money from advertising. We have a modified experience for viewers using ad blockers

Wikia is not accessible if you've made further modifications. Remove the custom ad blocker rule(s) and the page will load as expected.